ARTISTRY IN MACHINE EMBROIDERY
---
2 Sessions:
14 – 17 August 2017, & 8-11 November 2017
Tutor: Gail Harker
Brochure: Artistry in Machine Embroidery
Status: Registration Open
This 2 session course is perfect for anyone wanting to increase their machine embroidery skills and take free motion embroidery to the next level. each session will explore additional techniques beyond that found in Level 1 experimental machine stitch. Particular attention is paid to the elements of design.  The sessions are separated by a period of time that will allow participants to practice their skills. Gail will assist students with their designs, machines and techniques and will demonstrate the use of color and preparation of the fabric ready for stitching. The prerequisite for this course is Level 1 Experimental Machine Stitch; please consult the Brochure: Artistry in Machine Embroidery for complete information.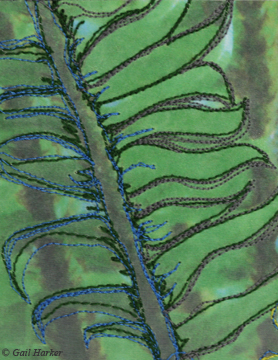 $1,050.00
Cart opens to secure online payments through PayPal.  Credit Card payments do NOT require a PayPal account.  To check out as a Guest (no PayPal account), after you add your course to the cart, click the words "Check Out" under the Yellow PayPal button.