EXPERIMENTAL HAND STITCH 101
---
Certificate Course, Level 1
New Dates Coming Soon!
Class Name: Dandelion
Tutor: Gail Harker
Course Brochure – Dandelion Level 1 Hand Stitch
A creative, contemporary approach to embroidery through basic design and color. This course serves as a basic introduction to the vast world of embroidery. Techniques and stitches will be worked in imaginative methods using color, line, shape, and balance. Using your own hand-painted fabric, you will create a variety of small, embroidered samples to include line, detached, textured, and composite stitches. This course is a prerequisite to Studies in Design and Experimental Stitch, Level 2. Please read the Dandelion-L1H_Brochure for full details.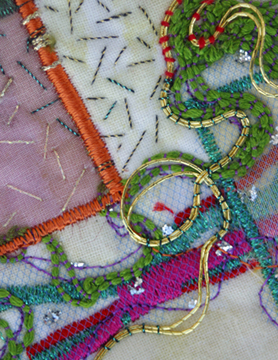 $595.00
Cart opens to secure online payments through PayPal.  Credit Card payments do NOT require a PayPal account.  To check out as a Guest (no PayPal account), after you add your course to the cart, click the words "Check Out" under the Yellow PayPal button.