THE ULTIMATE BEAD BOOK
---
3 Sessions:
30 July – 1 August;   1 – 3 October;   & 2 – 4 December, 2017

Tutor: Gail Harker
Course Brochure: The Ultimate Bead Book
 Registration Open
A true love for anyone who creates it, The Ultimate Bead Book is a treasury of stitched embellishment created in in a small scale. The focus of this course is to learn and exploit the dramatic design impact of beads and stitching. Particular attention is paid to color ways, patterns, beaded stitches and decorative beaded edges. Students will find satisfaction in expressing their own tastes while compiling a reference book that stands as it's own artistic work. Presented in 3 Sessions, each 3-day session is separated by a period of time that will allow participants time to practice their skills. Gail will assist students with their designs. Open to all and suitable for anyone. Please consult the Course Brochure: The Ultimate Bead Book for complete information.
To register online, simply add this course to your shopping cart.
If you select a two-payment option please call the office to register 360-466-0110, or mail in the Registration Form- Bead Book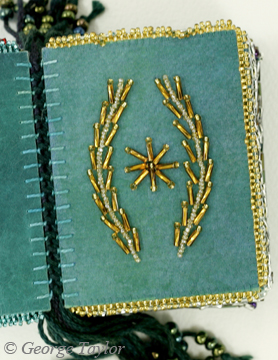 Payment plans are available.  Please refer to the course brochure to see your payment options.
$1185.00
Cart opens to secure online payments through PayPal.  Credit Card payments do NOT require a PayPal account.  To check out as a Guest (no PayPal account), after you add your course to the cart, click the words "Check Out" under the Yellow PayPal button.